Bio
My career began in Paris, France where, for many years, I owned and ran my own recording studio. There I recorded albums, composed film scores, wrote for musical theatre and children's animation projects. I am what the French would call a "touche à tout", someone who enjoys working in a wide varity of styles and genres.
In April 2008, I crossed the Atlantic and returned to my American roots. I founded the L.A. Music Lab, to provide  theater, film and television companies with a full range of services, including sound design and original music for their productions.  L.A. Music Lab maintains the same high quality and friendly atmosphere of my Paris studio. It is also a place where other composers and songwriters can come and work, with my assistance, on their own projects.
Always cooking up new material, I enjoy blending my favorite musical ingredients: live acoustic instruments played by jazz musicians, classical soloists and ensembles, real world sounds, music from around the world, and sometimes a pinch of electronic synthesized sounds, just to add flavoring and that little extra oomph, mixing the different forms, styles, colors and rhythms.
Some career highlights
In France...
I have scored five children's musicals, including Blue Beard, which ran for over two years and Charline doesn't want to wash which opened in 2010 and will be on tour through 2013. Click on a poster to find out more...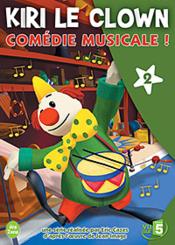 Fred Durieux, Francis Medoc and I each contributed five melodies which I then used to score all 65 episodes of the French animated series,
Kiri the Clown.
It is still running on French television and has been released on DVD.  
I have also written the scores for numerous films (including 5 that won awards at international film festivals) - you can check some of them out
HERE
.
In Los Angeles...
I recently wrote the stage music for
Why We Have A Body
at the Edgemar Center for the Arts, directed by Tanna Frederick and starring Barbara Bain, Tanna Frederick, Cathy Arden & Alexandra Sedrowski. I had a fantastic group of musicians who played live on stage for every performance.
Parallel to composing, I have always been an active sound engineer, hired mainly by:
My fellow composers and musicians to record their music and concerts,
Musical-theater and kid-show productions, preparing their new projects,
Singers, preparing their concerts and/or albums. Several of these recordings end up being mixed and mastered to be released as commercial CDs.
Actors who record voice demo tapes.
Most of all, theatrical producers and directors, who continue to flock to me, for the quality of the soundtracks I create for their plays.
For many years now, my clients and collaborators have been calling on me over and over again, commenting on the serene quality of my listening, my positive suggestions, my seamless editing and, last but not least, the delicious coffee, offered in a relaxed and friendly yet professional atmosphere.
What's next?
I am currently orchestrating a second children's CD for
Tracy Newman
, singer-songwriter and Emmy-Award-winning TV writer. It's a joy working with her and I'm looking forward to sharing with you more of her fabulous songs...
Another project that is dear to my heart is "Monkey Mind The Musical" in collaboration with
Bill Berry
and
Terri Weiss
. We are looking to get it to its next stage (literally).
Many thanks to John Sparks and the
Academy for New Musical Theater
for their help and support in developing this project and so many others.
Stay tuned for more...